MEGA VENDOR DEVELPOMENT PROGRAMME-CUM-BUYER SELLER MEET UNDER NATIONAL SC-ST HUB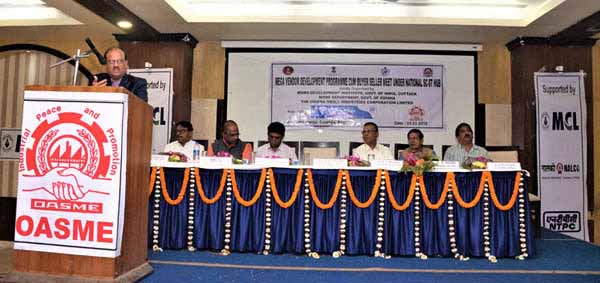 MEGA VENDOR DEVELPOMENT PROGRAMME-CUM-BUYER SELLER MEET UNDER NATIONAL SC-ST HUB
---
A "MEGA VENDOR DEVELPOMENT PROGRAMME-CUM-BUYER SELLER MEET UNDER NATIONAL SC-ST HUB" was organized by OASME in association with the MSME-DI, Cuttack and National SC-ST Hub (NSSH), NSIC, Branch Office, Bhubaneswar on1st March, 2019 at Hotel Durga, Turanga, Angul. The programme was inaugurated by the Chief Guest Dr. S. K. Sahoo, Director In charge, MSME-DI by lighting the holy lamp. The programme was graced by Mr. G.B Nayak, G.M, DIC, Angul,Mr. Subhasis Das, Manager, NSSH, NSIC, Mr. M.P Mishra, GM (Smelter), NALCO and senior representatives of Mahanadi Coalfields Limited (MCL), Heavy Water Plant, Angul under the Chairmanship of Mr. Gauri Shankar Dash, Chairman, OASME the MVDP was conducted and supervised by Mr. Subhasis Das, Manager, NSSH, NSIC, Bhubaneswar. During the Technical Session, the Senior Officer of CPSUs and Large Industries like NALCO, MCL, Heavy Water Plant etc. were participated and delivered presentation about their Vendor Development activities. Through power point presentation, all representatives were elaborated the participants about the system of Vendor Registration, list of required items, Scope & opportunities for SC & ST Entrepreneurs, etc. Near about 120 entrepreneurs from SC & ST and General categories were participated in this MVDP.
Newsletter Subscribe
Sign up today for hints, tips and the latest Updates.