ENTREPRENEURS MEET & AWARENESS PROGRAMME ON NSSH SCHEMES AT KENDRAPARA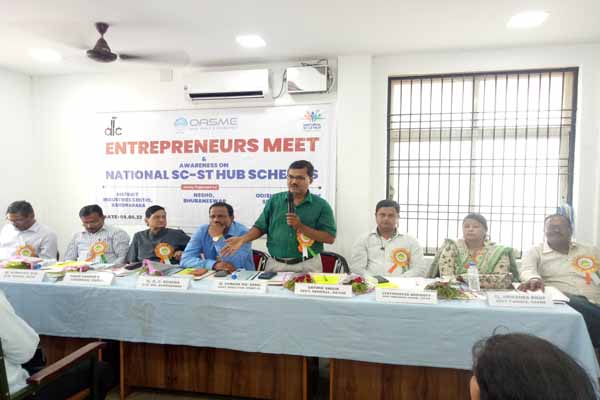 ENTREPRENEURS MEET & AWARENESS PROGRAMME ON NSSH SCHEMES AT KENDRAPARA
---
To create awareness on National SC-ST Hub Schemes for SC-ST & Women entrepreneurs amongst Entrepreneurs of Kendrapara District, an awareness programme on the aforesaid subject was organized jointly by OASME and NSSHO, Bhubaneswar on 08.06.2022 in the Conference hall of District Industries Center, Kendrapara. Mr. G.C. Behera, General Manager, DIC, Kendrapara was the Chief Guest. Mr. Subhasis Das, Branch Head, NSSHO, Bhubaneswar, Mr. Subash Ku. Sahoo, Asst. Director, MSME-DI, Govt. of India and Mr. N. N. Moharana, Industry Supervisor, DIC, Kendrapara were graced the occasion as the Guest Speakers and explained the participants about the various beneficial Schemes, Policies, Subsidies and incentives of Central as well as State Govt. Mr. Subhasis Dash, Branch Head NSSHO explained the participating entrepreneurs on NSSH scheme including SCLCSS and other beneficial Scheme of Central as well as State Govt. for SC/ST & Women entrepreneurs through power point presentation. He also explained about the process of the 1st and 2nd loan application under PMEGP scheme. The presentation of Mr. Das was very informative and knowledgeable for the entrepreneurs especially Women entrepreneurs of Kendrapara District. The program was held under the chairmanship of Mr. Gauri Sankar Dash, Chairman, OASME and was managed by Mr. Adikanda Rout, Secretary Finance, OASME. Mr. Satwik Swain, Secretary General, OASME was presented the Key-Note and intimated the participants about the style of functioning of NSSHO and the support & cooperation provided by them towards promotion, development and upliftment of SC-ST and Women Entrepreneurs of Odisha. Near about 50 Women entrepreneurs were attended the event from different parts of Kendrapara District.
Newsletter Subscribe
Sign up today for hints, tips and the latest Updates.