INTERACTION SESSION FOR SCORE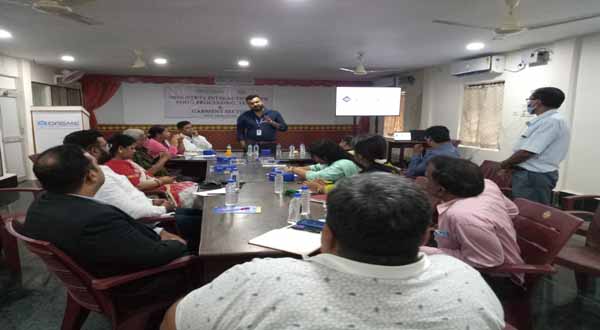 INTERACTION SESSION FOR SCORE
---
A programme on "Industry interaction with food processing (including fisheries) and textile & garments sector" on 19.04.2022 was organized in the ground floor Conference Hall of OASME Corporate Office at Satya Bhawan, Industrial Estate, Cuttack. Mr. Asish Dhiman, National Project Coordinator, Promoting Sustainable Enterprises in India (PSEI) of ILO was graced the occasion. Mr. P.K. Gupta, Jt. Director & HOO, MSME-DI, Mr. R. N. Mohapatra, G.M, DIC, Cuttack and Mr. Sampad Kumar Nayak, Asst. Manager, DIC, Bhubaneswar were graced the occasion and shared their valuable wisdom. Mr. Dhiman was explained and appraises the participants about the aim & objectives of the event as well as the activities of ILO through power point presentation. The Programme was attended by the more than 70 entrepreneurs engaged in Textile / Apparel / Garment and Food & Fisheries processing Industries from different part of the State.
Newsletter Subscribe
Sign up today for hints, tips and the latest Updates.