"ALFINFOODTECH SUMMIT-2017" of OASME and Seminar on "CREDIT FLOW TO START UP AND STAND UP INDIA"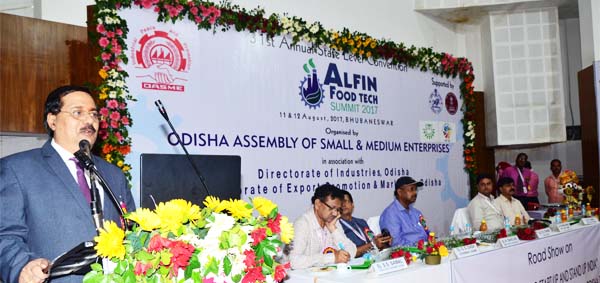 "ALFINFOODTECH SUMMIT-2017" of OASME and Seminar on "CREDIT FLOW TO START UP AND STAND UP INDIA"
---
On the occasion of celebration of its Foundation day as well as 31st Annual State level Convention of OASME, "ALFINFOODTECH SUMMIT-2017" was organized on 12th August,2017 at IDCOL Auditorium, Bhubaneswar. On this occasion, a State level Seminar on "CREDIT FLOW TO START UP AND STAND UP INDIA" was organized on same venue.
The Seminar was inaugurated by Dr. T. K. Chand, Chairman-cum-Managing Director, National Aluminium Company Ltd. as Chief Guest. The inaugural Ceremony was graced by Shri Niranjan Sahoo, IAS, Director of Industries, Odisha and Shri Samarendra Sahu, CEO, Institute of Entrepreneurship Development, Odisha, Mr. Shree Prakash, Dy. General Manager, NSIC Ltd. and Ms. Surekha Routray, Manager INVENT, KIIT-TBI, KIIT University informed that, KIIT as Guest Speakers. Almost all leading Bankers were attended the Seminar and took part in the deliberations. More than 300 delegates were attending the Seminar.
Newsletter Subscribe
Sign up today for hints, tips and the latest Updates.