TOWN HALL MEETING ON "MSME FINANCE" and ELECTION OF NEW OFFICE BEARERS OF BALANGIR DISTRICT CHAPTER OF OASME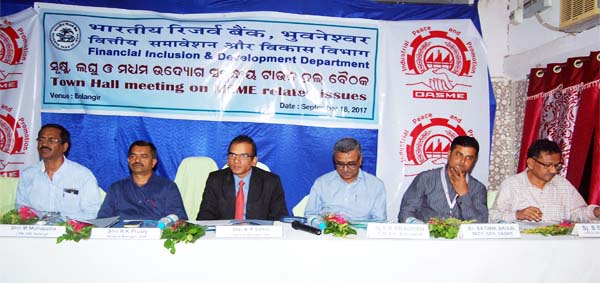 TOWN HALL MEETING ON "MSME FINANCE" and ELECTION OF NEW OFFICE BEARERS OF BALANGIR DISTRICT CHAPTER OF OASME
---
OASME in association with Reserve Bank of India, Bhubaneswar has organized a Town Hall Meeting on "MSME FINANCE on 18.09.2017 at Hotel Bhawati, Balangir. Mr. Ashish R. Samal, General Manager (FIDD), RBI was inaugurated the function as Chief Guest. Amongst other Guests, Shri G. C. Bisoi, Manager, FIDD, RBI and the General Manager, DIC, Balangir, the L.D.M, UCO Bank, Balangir were attended the programme.
On behalf of OASME, Mr. Shashi Sekhar Samal, Executive Chairman, Er. Satwik Swain, Secretary General and Mr. Pradeep Singh, Jt. Secy. Organisation were present. Senior Officers of almost all leading Banks functioning in Balangir were also graced the occasion and took part in the deliberations. During their address, the Executive Chairman and Secretary General, OASME, were focused on easy availability of MSME Finance by the financial Institutions and Commercial Banks. The Secretary General, Mr. Swain requested the General Manager, RBI to focus on MSME finance and requested all leading Bankers to apply liberal process in case of finance to a sick industry. Mr. G. C. Bisoi, Manager, FIDD, RBI explained the participants about the schemes, plans & procedures adopted by the RBI for greater interest of the MSME sector of the State. More than 100 entrepreneurs from MSE sector from Balangir and neighboring Districts were attended the programme.

In afternoon, Bolangir District Chapter meeting was held under the Chairmanship of Mr.S. S. Samal, Executive Chairman in which various problems relating to MSME sector was discussed. At last, the election of Office Bearers of Balangir Dist. Chapter for the year 2017-19 was held.
Newsletter Subscribe
Sign up today for hints, tips and the latest Updates.