Seminar on "FINANCIAL SUPPORT AND MARKETING ASSISTANCE FOR WOMEN ENTREPRENEURS"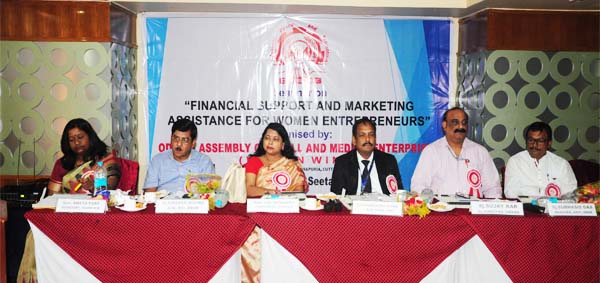 Seminar on "FINANCIAL SUPPORT AND MARKETING ASSISTANCE FOR WOMEN ENTREPRENEURS"
---
For the promotion and protection of Women Entrepreneurs of Odisha, a Seminar on "FINANCIAL SUPPORT AND MARKETING ASSISTANCE FOR WOMEN ENTREPRENEURS" was organized by the Women Wing of OASME under the aegis of National Small Industries Corporation Ltd., Bhubaneswar on 02.05.2018 in the Conference hall of Hotel Seetal, Bhubaneswar. Mr. Manabendra Misra, General Manager (FIDD), RBI, Bhubaneswar was inaugurated the Seminar as Chief Guest. Mr. Subhasis Das, Manager, NSIC, Bhubaneswar, Mr. Nirakar Mishra, General Manager, DIC, Bhubaneswar, Mr. Sujay Kar, Dy. Director, ORMAS, Bhubaneswar, Mr. Shreekanta Mohapatra, Dy. General Manager, Canara Bank, Bhubaneswar, Ms. Sasmita Mishra, State Bank of India, LHO, Bhubaneswar, Mrs. Nirupama Mishra, Dy. Manager, APICOL, Bhubaneswar were graced the occasion and contributed their views & suggestions during their respective speeches. All most all participants were took part in the interaction session. After a long deliberated question answer session, the following recommendations were passed.

1- RBI should conduct Open house discussion all leading Banks to analyze the status of MSME Finance made by the Banks to MSMEs on regular basis.
2- The actual amount of finance provided to MSMEs under Mudra Runa should be analyzed i.e sanctioned and disbursed.
3- RBI should conduct Bank wise survey on regular basis regarding MSME finance as well as status of Mudra Runa.
4- Bankers should be included in Single Window Scheme.
5- Strong action will be taken against the concern Banker if no response will get by the MSME loan applicant within one month from the date of submission of application.
6- Consumer education protection Cell of RBI should function effectively to educate the MSME.
7- NSIC should take initiation to act as a prime agency to market the MSME products.
8- The role of SC/ST & Women entrepreneurs Hub of NSIC should reach with the Entrepreneurs of the State rapidly.
9- State wide Finance literacy awareness programme should be conducted.
10- Women Entrepreneurship Development Programmes should be organized in regular intervals.
11- Bankers should be liberal to single women enterprises.
12- A special guideline should be made for the Bankers to deal with Women entrepreneurs as special cases.

Besides the Govt. Officials, more than 120 Women Entrepreneurs were attended the Seminar from different parts of the State and put forth their views and grievances relating to various issues faced by them.
Newsletter Subscribe
Sign up today for hints, tips and the latest Updates.