SEMINAR ON "IMPLEMENTATION OF GeM AND ITS IMPACT ON ODISHA BASED MSMES"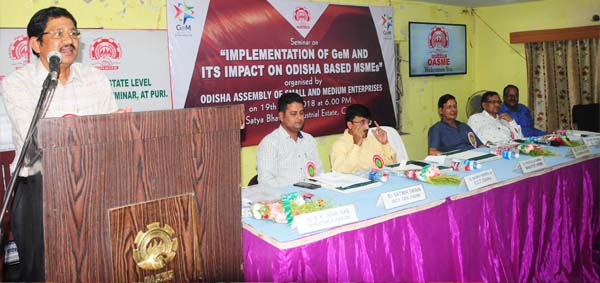 SEMINAR ON "IMPLEMENTATION OF GeM AND ITS IMPACT ON ODISHA BASED MSMES"
---
The Govt. of India has implemented Government e-Marketplace (GeM), a National Public Procurement Portal which is an end-to-end online Marketplace for Central and State Government Ministries / Departments, Central & State Public Sector Undertakings, Autonomous institutions and local bodies for procurement of common use goods & services. To implement the Ge-M in Odisha, the Department of Finance, Govt. of Odisha has signed MOU with the GeM SPV. To discuss about effectiveness of this system and its impact on the State MSMEs, OASME has organized a Seminar on "IMPLEMENTATION OF GeM AND ITS IMPACT ON ODISHA BASED MSMES" on 19.04.2018 in its Conference hall as Satya Bhawan, Inustrial Estate, Cuttack. Mr. Saswat Mishra, Commissioner, Commercial Taxes, Odisha and Mr. S. K. Jena, Director, Export Promotion & Marketing, Odisha were graced the occasion and appraised the participants regarding merit and demerit of GeM on Odisha based MSMEs. A thread bare discussion was held on different aspects like

1- How GeM is going to help our State MSMEs ?
2-What will be the advantages and disadvantages to our MSMEs ?
3- What advantages and disadvantages to our State ?
4-What will be the importance of D.EP&M, Odisha after implementation of GeM ?
5-It was unanimously concluded that the items registered under State D EPM should be kept out from GeM.
6-State specific GeM portal should be developed as per State requirement.

It was raised that, due to GeM, the functioning of EP&M will be reduced and thousands of rate contract holding MSME units will lose their business. All are demanded that, GeM should not be mandatory for Odisha based MSMEs and it should not affect the activities of EPM. The Seminar was attended by more than 100 MSME entrepreneurs from different districts alongwith Office Bearers of other Industry Associations like OSSIA, OYEA etc. and put forth their views and suggestions in respect of the impact on Odisha based MSMEs due to implementation of GeM.
Newsletter Subscribe
Sign up today for hints, tips and the latest Updates.